The best Kenya car hire services, car rental in Kenya 4x4 from US$65 a day. 
Are you looking for a popular car rental in Kenya?
Smart Rentals offers the best 4×4 reliable car hire at US$65 daily. Hire a car to explore East Africa without restriction with Smart Rentals. We offer the best drive car hire in Kenya. We have competitive rates from all leading car hire companies to give you the best modern, reliable vehicles with the best prices. 
We provide all types of cars, including off-road to Amboseli National Park, Lake Nakuru, Tsavo, Masai Mara, Turkana, and Tanzania. 
How much is car hire services & driver across cities in Kenya?
Hiring a private driver is a good idea when you hire a car in the city. Most drivers are paid a daily allowance of US$20, but to drive outside the city will range from US$30 toUS$40 per day depending on where you will be going. Hire a car and private driver with Smart Rentals car.
What are the requirements to rent a car in Kenya?
Car rental Kenya, bring the following:
A valid driving license

Valid credit card or another payment type (cash: shillings, euros, dollars, etc.)

Proof of Identity (valid passport, ID card)
Which cheap car rental is available for safari?
The 4×4 Land cruiser available:
Land cruiser offroad 4×4 US$210

Land cruiser  v8 4×4 200

Land rover 4×4  US$180
NB: All our land cruisers off the road 4×4 are chauffeur driven.
Are you looking for Long-term vehicle rental best deals?
When you search for a vehicle hire, you come across many sites. Relax; you have come to the right place. Smart rentals have been hiring vehicles for the last 20 years and will blow your head with their beautiful services. From your car hire inquiry to picking up at the airport, you will feel the personal attention anyone would die for, from what you need to hire to the best variety of cars available. Depending on the quality of the roads.
Is it a must to hire a Toyota 4x4 car?
With a 4×4  rav4, 4×4 land cruiser, van, 4×4 land rover, 4×4 Jeep, or Saloon, you will drive across cities without restrictions.
The 4×4 are off-road. We are ready to assist with the 4×4 ideal for your budget and destination. There are many choices, from small 4×4 TO BIG 4×4, rates for car rentals. The hardest part of a car choice is searching for a rental company in Kenya can vary to give you the required car. Smart rentals will listen to your preference and advice you on the best 4×4 ideal for your budget destination. The rental agreement is forwarded to you before arrival to understand what is ahead of you before arrival.
Can you drop the rental car in all locations in Kenya?
Our 24-hour reliable car rental services are available from the airport. You only need a confirmed air ticket. You can pick up your 4×4 at the airport and drop it off at the same airport. You will incur extra charges if you prefer to drop the car rental at a different place.
Whether you are looking for a 4wd, jeep 4wd, land cruiser 4×4, or sedan, Smart rentals are available 24 hours.
Can I hire a self-drive in Kenya?
Smart rentals offer 4×4 for hire from small 4wd, 4×4 Rav, 4×4 Xtrail, and 4×4 RV,  Suzuki,  4wd Range Rover, and 4×4  land cruiser, all these available for hire.
How much does it cost to hire a 4×4?
Several types of 4×4, including small 4WD like Rav4, Jeep, and Land cruiser, differ in price. For 4×4 Rav4 from US$70, 4wd, land cruiser US$150, Land rover 4×4 from US$180.
Can I hire a car at Nairobi airport?
We will deliver your preferred 4×4 car at the airport upon arrival.
Is it possible to hire a car with a driver?
Yes, hiring a car with a driver around the city is possible.
Can I hire a car in Nairobi and drop it in Mombasa?
Yes, with Smart Rentals, hiring a car across cities in Kenya is quite an in order.
How much does a Jeep hire in Kenya cost?
Jeep will cost US$80 daily, though big jeep can cost more but affordable car hire.
How much is Kenya's big SUV for hire cost?
Car rental companies differ in the best car rental prices in Kenya. But to hire a big 4wd,  SEDANUSD 45 PER DAY, a small 4w is USD 70, and a big 4wd is USD 140; prices may change without prior notice.
Can I book a rental car last minute?
It is possible to have a last-minute car rental but to avoid disappointment, book your car in advance.
How much is Kenya's big SUV for hire cost?
Car rental companies differ in the best car rental prices in Kenya. But to hire a big 4wd,  SEDANUSD 45 PER DAY, a small 4w is USD 70, and a big 4wd is USD 140; prices may change without prior notice.
To hire a 4x4 SUV in Kenya, does it come with a camping roof tent?
Hire Kenya a 4×4 with camping equipment or a roof tent at an extra cost.
Can I hire a campervan in Kenya?
Yes, it is possible to hire a campervan; don't hesitate to contact us for more detail.
We provide a 4×4 Jeep, Rav4, Land Cruiser, and land rover for hire. The allowance in the city will be US$20 a day; out of town will be US$35 daily.
Is Rav4 Available for hire in Nairobi?
We have varieties of 4×4 rav4 cars for hire from US$65 a day.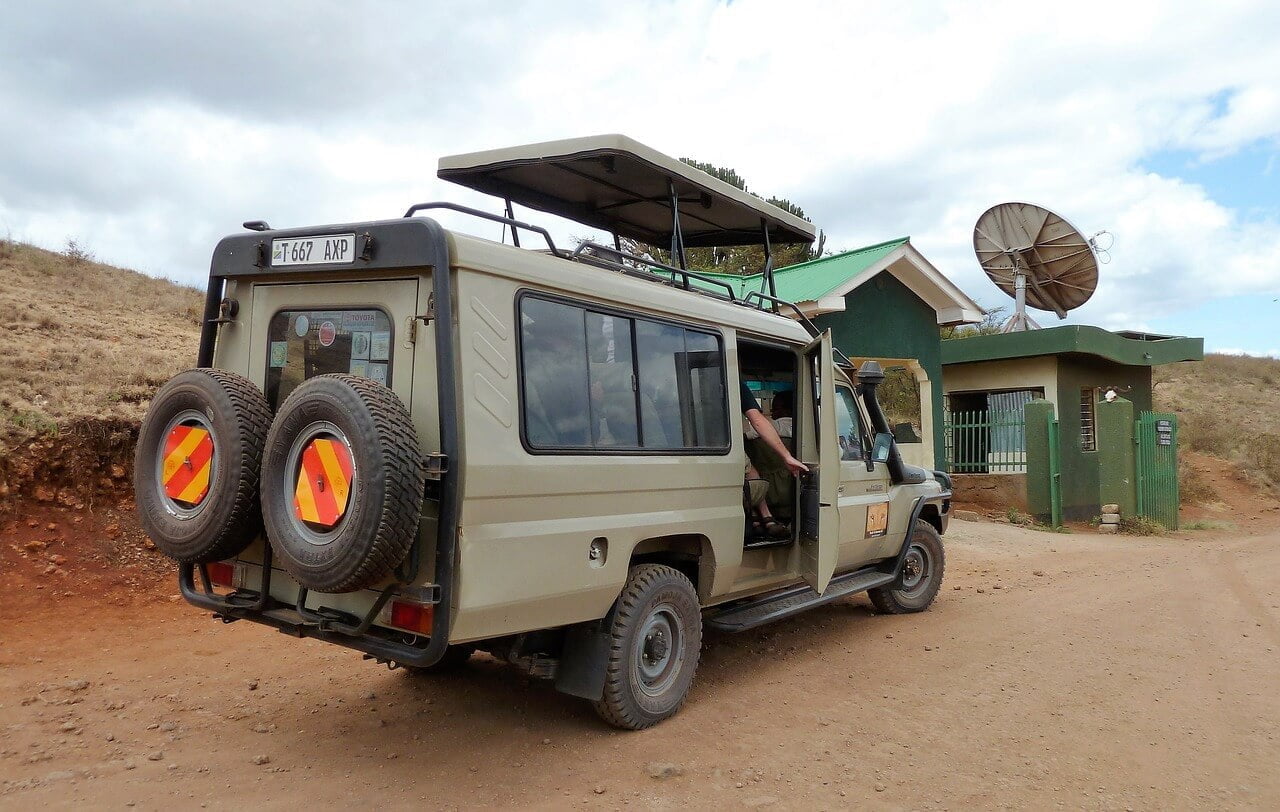 To and From the airport to Nairobi National Park  from US$80 per person, two pax US$60
To and from the airport to Maasai Mara Park from US$500 per person, two pax US$250 per person
Excludes entrance fee US$43   US80 Masai 
Tips on driving on Kenyan roads, especially on Highway
Be cautious of people and wildlife crossing the road
Ignore con artists seated on the side of the road trying to stop you and claiming your car to be faulty.
It is important to check the engine oil, coolant, and spare tires are in order every morning.
Though the consumption of all our cars is outstanding, gas prices are high, approximately Kshs.180 per gallon.
Only drive on the designated speed limit
In rural areas, be cautious of the children's playing along the road
Mombasa Airport and City,
airport 
Nakuru 
Kisumu town
Thika town
Eldoret town
Smart rentals come in handy by meeting you at the airport and escorting you to your destination in the city.